Twist Lock Stability Ring
Secure your taller chambers with the Twist Lock Stability Ring! Simply fasten the Ring to your work bench or heavy block of wood with the included screws. Then place your chamber in the ring and twist 1/8 turn to lock in place! To remove the chamber to empty the contents or to wash it out for a color change, a simple 1/8 turn the opposite direction and the chamber lifts right out! 100% designed and made in USA by TurnTex, LLC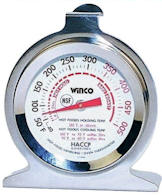 Oven Thermometer
Toaster oven dials are notoriously inaccurate! An oven will help to assure your oven is set at the optimal Cactus Juice cure temperature of 200° F (90° C). Made of high-grade stainless steel and oven-safe glass lens, this compact and sturdy 2" oven thermometer gives accurate readings to ensure correct temperature. Temperature range 50° to 500° F. Made in China.