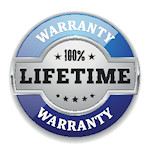 Lifetime Warranty!
TurnTex, LLC creates the finest quality, durable, and reliable products on the market. As a result, if your JuiceProof Stabilizing Chamber ever breaks down for any reason, simply contact me and I will either send you the parts necessary (such as gauges, hoses, or o-rings) or will send you a label to ship it back to me at my expense. If it can be fixed, I will fix it and if it can't I'll replace it at no cost to you! This includes the complete chamber and all parts that come with the chamber including the gauge, gasket, hose, and all fittings. I stand by my chambers for a lifetime and since I've been making stabilizing chambers longer than anyone, that's a guarantee you can stand by!
Of course this warranty does not cover discoloration or damage due to misuse, abuse, or use of chemicals other than heat cured stabilizing resins like Cactus Juice.
This warranty if fully transferable and retroactive to any JuiceProof Chamber I have made!